Venue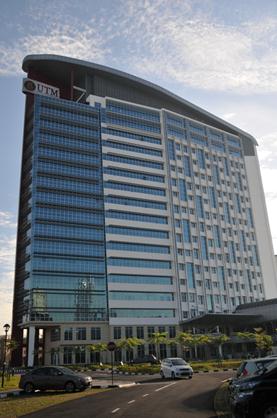 UTM Kuala Lumpur Campus (UTM KL) is a branch campus of Universiti Teknologi Malaysia (UTM), and is under the same corporate structure as its main campus in Johor Bahru, Johor. The current UTM KL which is located at the centre of Kuala Lumpur city used to be the original campus of UTM on Lot 4582 Jalan Sultan Yahya Petra (Jalan Semarak), with an area of 47.56 acre. UTM KL is a semi-autonomous branch campus headed by a Campus Director and the whole structure is governed by the same Board of Directors under the same protocol of Chancellor and Pro-Chancellors. The administrative and academic support for UTM KL is provided by the major administrative offices such as Office of the Registrar,&nbspBursary, Library, Office of Asset and Construction Management, Centre for Information & Communication Technology and Office of Corporate Affairs.
UTM KL is in its own local community affiliated with UTM, offers leading-edge programmes at bachelor and graduate degree levels and provides services both locally and internationally. In the current academic session, the UTM KL is offering full-time undergraduate programmes and postgraduate programmes under its four major schools: The UTM Razak School, The Perdana School, The Advanced Informatics School and the UTM International Business School. Some of these schools also offer part-time executive programmes for working professionals. In addition, part-time and modular programmes are run by UTMSPACE (The School for Professional and Continuing Education).
There are several centres of excellence in UTM KL which carry out research activities and also offer some academic programmes. Other major supporting units include the branch offices of Innovation & Commercialization Center (ICC), School for Graduate Studies (SPS) and International Affairs. Their presence in the International Campus would be supportive of the Campus key results areas and its strategic objectives. The University of Meiji also operates an office in UTM KL under the UTM-Meiji collaboration programme and the Malaysia-Japan International Institute of Technology (MJIIT) also operates here.
UTM KL has developed a long term plan to leverage on the full advantage of its location in the urban Kuala Lumpur, cultivating on attractions and characteristics unavailable in the Main Campus. Its mission to showcase UTM in the fields of science and technology and offer cross-disciplinary programmes with international outlook and industry-driven, are its major endeavour which will qualify UTM KL as an international reference centre for the global communities.
Accommodations
The conference package does not include accommodation. The recommended accommodations are listed below that located near the conference venue:
Visa Entry Requirement
Passport or Travel Document

Every person entering Malaysia must possess a valid National Passport or internationally recognized Travel Document valid for travel to Malaysia. Any person not in possession of a Passport or Travel Document which is recognized by Malaysian Government must obtain a Document in lieu of Passport. Application for the Document in lieu of Passport can be made at any Malaysian Representative Office abroad. Holders of Travel Documents like a Certificate of Identity, Laisser Passer, Titre de Voyage or a Country's Certificate of Permanent Residence must ensure that their return to the country which issued the document or the country of residence is guaranteed. The documents shall be valid, for more than six (6) months from the date of entry into Malaysia.

Visa Requirement

Foreign nationals who require a visa to enter Malaysia must apply and obtain a visa in advance at Malaysian Representative Office before entering the country. A visa is an endorsement in a passport or other recognized travel document of foreigner indicating that the holder has applied for permission to enter Malaysia and that permission has been granted. Foreign nationals who require a visa to enter Malaysia must apply and obtain a visa in advance at any Malaysian Representative Office abroad before entering the country. Visa, which has been granted, is not absolute guarantee that the holder will be allowed to enter Malaysia. The final decision lies with the Immigration Officer at the entry point.

For more information on Malaysian VISA requirements please visit here.